Tambula is an established tech firm paving the future of transit advertising in Uganda. Our clients enjoy the unique opportunity to advertise and promote their brands in the most effective way. We direct the full attention of your targeted customer to your marketing in ways that are innovatively powered by our high end tech and data analytics.
Call us +256 794 528 715 | +256 780 717 630
For any question or concern
Benefits...
Outperform your competition – Join the revolution a new medium to surpass your competitors.
Advanced Marketing Metrics  – Our portal helps you understand customer interaction and improve your strategy.
Increase your ROI – Delivering results involves more than just getting your collateral right. Campaigns must be cost effective.
About Tambula Digital Media Inc
"Join the digital revolution where your content can be viewed by a highly captive audience who have time to read, listen and absorb your messages. Literally beam your message into the eyes of your ideal consumer."
Objective
To use innovative technology to increase customer engagement and brand awareness through targeted, metrics-driven marketing campaigns.
Our offer
Tambula transit advertising offers a unique opportunity to showcase their products/services on HD screens to a captive audience during their commute.
Outcome
A great Advert targeted towards a specific consumer group on thier commutte. Our screens deliver elegant eye-to-eye exposure to passengers, our entertainment content is designed to captivate the mind – "the mind recalls what captivates".
Content
Organisations,Companies or Individuals are able to combine high quality images, video and audio content to make their adverts much more appealing.


Why Choose Us?
* We have created a unique platform, never seen before in Uganda for large-scale advertising, reaching new consumers for your clients.
* We give you access to over 200 buses moving in all parts of the country .
* We remotely control the content of our screens from our headquarters, giving us unmatched turnaround time in responding to your requests, changing your content and monitoring performance.
* We provide timely reports of campaign metrics for you to feedback to your clients.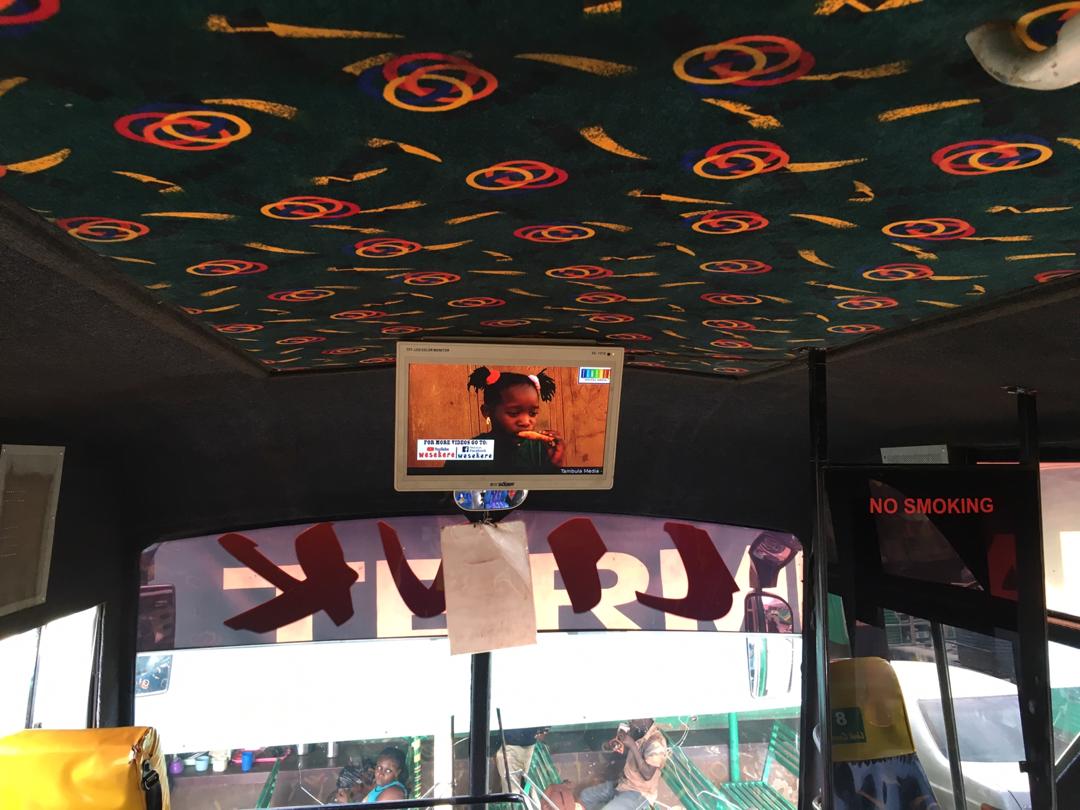 FLEXIBLE PRICING!
Our Rates
We understand that budgets vary throughout the year.  Choose a subscription, upgrade or downgrade whenever it suits you and manage your spending via our 'easy-to-use' interface.
We offer affordable packages which we continuously tailor to maximise your audience according to your needs.
""Affordable advertising in buses for as little as UGX 1200/= per day!""
"DISCOUNTS FOR LARGE BOOKINGS!"